Peugeot MK 4 1937 large pick-up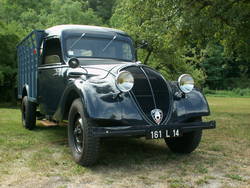 This Peugeot MK 4 delivery vehicle is based on the 402-limousine.
The three seater example comes from Calvados (Normandy) it is in its original 'Admiral Blue'paint work and has been restored with much love and attention to detail.
The Mk4 with wooden loading platform was used for Agricultural purposes (Transport of animals , straw , hay and of course people).
The wooden benches still fitted ,this beautiful example was some years ago exhibited at the ´Auto-Moto-Rétro` show in Rouen .
Fitting
The delivery van has a wooden loading platform,
LXWXH :2300 mm x 1450 mm x 1170 mm
The tailgate can be lowered and used as a ramp for easy access.
The tailgate can also be removed and replaced with a small flap and the loading area can then be removed via a small wooden ladder.
Distance from floor to loading platform is 700 mm.
Two benches each 1800 mm are screwed to the loading platform ,these can easily be removed. A matching fold-up table also 1800 mm is also supplied and can be fixed to the floor.
To complete the Historic look we also have a small wooden trunk for drinks, advertising leaflets etc .
Advertising space is available on both side doors :
A4 portrait / landscape
A3 Portrait / landscape
A2 landscape
290mmx 290mm
The height of the panelled wooden loading frame offers further advertising space.
Transparent Folders ( with ring binder fittings ) are available:
LXH (max) 2200mm x800mm
Securing the transparent folders can be done with cable ties or of course to keep more in time with the vehicle with string etc.
Parking Space required
LXWXH 5100mmx1700mmx1950mm
Weight 1,400 kg