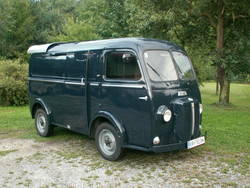 Peugeot D4A 1957 box van
Peugeot D 4A in ' Marine Blue' is the first of its type with a historical registration in Austria .
The van used to belong a to collector from Burgundy and was before based in Neûchatel and used by the " Laiterie du Lac " as a milk delivery van form the area around Neuenburger lake.
Fitting
The two seated delivery van is equipped with a sliding door on the right side as well as double doors in the rear, extending sliding roof on the back of the van , can be used as protection against rain or sun .
Fitted shelves are fixed on both sides of loading space .
Advertising Space
On the side panels :
L X H 1320mm X 420 mm
A2 – landscape format
A3 – landscape format
290mm X 290mm and it is also possible to use the space below the trim for A2 portrait format
or A3 landscape format
On the two front doors :
A3 lanscape format
A4 portrait /landscape format
290mm X 290mm
On the two rear doors :
A3 portrait / landscape form .
A4 portrait / landscape form
290mmx 290mm
Parking space required
Lx W x H 4430mmX 1870mm X 2150mm
Weight 1,500kg